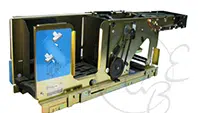 Parts Repair & Refurbishment
NCR
Diebold
Wincor
Hyosung
ABE provides professional refurbishment/repair for most ATM part assemblies.
Repair Defective ATMs
Tame your defective inventory nightmare and squeeze every penny out of your maintenance contracts by processing your defective field return parts at the time of removal.
Plan Ahead
Everybody needs a plan. Do you know what ATM parts you should keep on hand for repairing defective field return parts? Our experts can help.
The Best ROI
Get the best return on your investment. Once our technicians repair or replace your ATM parts, you're back in business and servicing customers.
Management Assistant
Need back up in case of machine failure? We can help you manage inventory so you are prepared if your ATM machine goes down.
Bar Coded
Never run out of the necessities. You can easily track and manage your inventory with bar code serialized tracking.
Avoid Extra Charges
There's a cost for being unprepared. Have the parts when you need them and you'll avoid having to pay costly expedite fees and overtime.
Saves Time and Money
Repairing your parts with ABE saves time and money while minimizing costly machine downtime. Set up a repair with ABE today!
Copyright 2023 - American Bank Equipment - All rights reserved