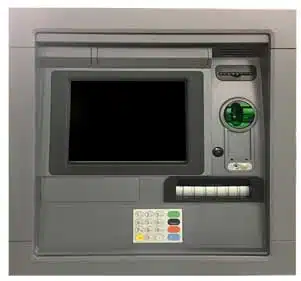 OnSite ATM Branding/Refurbishment
Brand or Refurbish Your ATM On Location
ABE pioneered the OnSite ATM Branding/Refurbishment Process. We ship you replacements for all the ATM panels that are worn from sun, age and daily use for quick swap out. Including but not limited to: fascia, doors, collar, FDK bezel, shutters, top-back-side panels. Picture gallery here.
Your old machine looks new in a few hours either with factory colors or custom branded to harmonize with your institutions' advertising concept.
Reusing your current machine is economical & ecological.
The key to the OnSite ATM refurbishment is our process, and that we use the highest quality materials. We are providing the same service for the OnSite ATM Branding/Refurb kit that we do for our Refurbished ATM customers.
To insure you get good quality ATM Refurbishment that will last, you must do the work in a controlled environment.
We do all the hard work then ship to you for installation. You cover freight to your location and then ABE will arrange pick up of the core exchange parts and pay for return freight.
OnSite ATM Branding/Refurb takes all worry out of the equation and offers long lasting look and feel that will make a great impression on your customers.
We use quality automotive paint, and can work with you to develop a CAD rendering that brings your vision to life.
Check out the pics and you will see why we sell more OnSite ATM Branding/Refurbishment than any other custom service we provide.
Email: quote@americanbankequipment.com
Phone: (502) 225-9007
Fax: (502) 290-2209